Thu, April 7, 2022
Entrepreneurship professor named winner of CSUSB Golden Apple Award for teaching
The Golden Apple Award nominating committee said that one can easily feel overwhelmed by the sheer volume of Professor Michael Stull's teaching contributions.
Michael Stull, a professor of entrepreneurship and director of the Cal State San Bernardino School of Entrepreneurship and the Inland Empire Center for Entrepreneurship, was named in a surprise announcement the winner of the university's 2021-22 Golden Apple Award for excellence in teaching.
Stull was meeting with students for the second open pitch session in preparation for the annual CSUSB Innovation Challenge in the second-floor meeting area of the College of Extended and Global Education, when university President Tomás Morales, accompanied by about 35 colleagues, fellow faculty members, staff and administrators, walked into the meeting area to make the surprise announcement.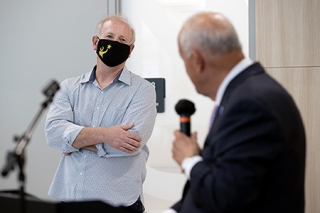 "Let me just share with you that I could not be more excited and delighted to share this really special occasion with you guys. Mike Stull is this year's 2021-22 Golden Apple Award winner," Morales told those gathered in the meeting space. "We all know that Mike is an incredible teacher, an incredible innovator. Someone who has a vision not only for Cal State San Bernardino, but for the region."
"The Golden Apple Award recognizes outstanding teachers who excel in the profession of teaching and have a significant impact on students with whom they interact," Morales said. "So Provost (Shari) McMahan and I join the university's awards committee in their selection of Dr. Stull for this honor."
McMahan praised Stull for his dedication to teaching and inspiring entrepreneurship on campus.
"Congratulations Dr. Stull on receiving the highest award the university has for teaching, which is really quite an honor. Your support of our students is wide-ranging and impactful. We know you are truly amazing," McMahan said. "I'd also like to extend my gratitude for your work on our strategic plans, specifically Goal 3, Objective 2, which states that we're going to launch an innovative entrepreneurial activity offered by the university and cultivate a culture of entrepreneurship at our university."
Shanthi Srinivas, the interim dean of the Jack H. Brown College of Business and Public Administration who joined the university in August 2021, said she had known Stull for years out in the community through various functions, such as judging business competitions, but not as an instructor.
"Right from day one here, I have observed his passion and his commitment to our students and to the whole field of entrepreneurship. Everything that he talks about is about being innovative, is about pursuing your dreams," Srinivas said. "I also want to particularly compliment Mike on his mentorship of our students and we have actual evidence of that. We are hiring a new person to join the entrepreneurship faculty who was mentored by Mike and continues to be, so I'm particularly grateful for that."
The surprise award notification, known on campus as the faculty "ambush," is a long-time and much celebrated CSUSB tradition in recognizing an outstanding faculty member by making the announcement in that faculty member's classroom when class is in session so students can see their instructor being honored.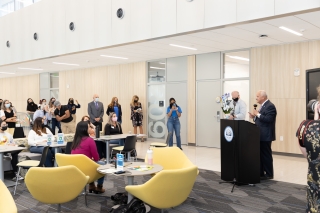 When it was Stull's turn to talk, he still sounded surprised by the news.
"I've been nominated many times for the Golden Apple. To me the honor is the nomination that somebody thought enough of you, one of your students thought enough of you to nominate for the award. That's always been enough for me,"
Stull said.
"It's been an amazing experience, the support I have from my colleagues in the department of management – great role models, super encouraging, fantastic faculty in that department and you learn from everybody,"
Stull said.
"I feel a little bit of mixed emotions about getting an award because I never feel like I am there. I never feel like I've reached my potential. I never feel I'm as good as I need to be as an instructor,"
Stull said.
"I always read the (students evaluation) comments. I don't care about the scores; I want to read the comments and see what students say. And I'm always trying to be a better instructor, a better leader, whatever it is. So to take a moment and reflect, it's been an incredible journey."
Stull said he loves teaching and can't wait to get to the classroom.
"After some of the days we have here administratively, dealing with bureaucracy, challenges, problems, all that kind of stuff, the refuge is the classroom. It's the place that I can't wait for,"
Stull said.
"In the evening when I teach or on a Saturday, I'm excited to be there because I can leave all that other stuff behind and just have fun learning and sharing what I've learned, and I say learning because I learn something every time I teach."
Stull, a two-time CSUSB alumnus ('88 BA business administration, '89 MBA) who joined the university faculty in 2001, serves as the interim director of the CSUSB School of Entrepreneurship, director of the Inland Empire Center for Entrepreneurship (IECE) and coordinator of the Master of Science in Entrepreneurship & Innovation (MSEI) program. He has also served as chair of the CSUSB Department of Management.
In a letter to Morales, the co-chairs of the 2021-22 University Awards Committee, psychology professor Kelly Campbell, and Art & Design department chair and professor Katherine Gray, wrote that Stull
"has demonstrated true distinctiveness in his roles and responsibilities related to teaching. In reviewing Dr. Stull's curriculum vitae, one can easily feel overwhelmed by the sheer volume of his teaching contributions."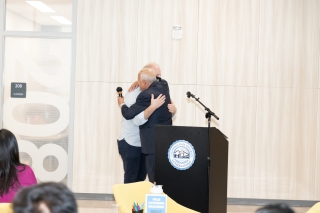 Stull, who has taught a variety of undergraduate and graduate courses related to management and entrepreneurship, has consistently received positive reviews from students, the committee wrote,
"On average, his quantitative SOTE (Student Evaluations of Teaching Effectiveness) are 5.7 (on a 6-point scale) for his specific contributions to learning and 5.64 (on a 6-point scale) for the quality of instruction."
The committee cited one example from one of Stull's students.
"Professor Stull is the greatest teacher I have ever had in my entire life, and he specifically had a way to get the best out of me and many other students. He did this by expecting more from us,"
the student wrote.
"From day one he instilled in our minds that we were no longer college students but business owners of our own college education. The setting of the entrepreneurship classroom is like none other I have seen on campus."
Committee co-chairs Campbell and Gray added that Stull has also
"independently supervised numerous independent study students, master's theses, and student internships."
The other members of the committee were music professor Todd A. Johnson, kinesiology professor Christopher Gentry, and history associate professor Richard Samuelson.
Stull has also exponentially impacted the lives of students through program and curriculum development, the committee wrote.
He was centrally involved in creating the Bachelor of Arts in Entrepreneurship, which required developing 11 distinct courses. He additionally led the initiative to develop the MSEI program and designed the program and curriculum for the Integrated Technology Transfer Network (ITTN) program. This latter initiative provided graduate-level entrepreneurship training to minority science students from across the country, which Stull completed on his own for several years before the program grew to include five faculty members and several adjunct professors.
The MSEI program led CSUSB to be honored with the National Excellence in Entrepreneurship Education award from the United States Association for Small Business and Entrepreneurship (USASBE), an award commonly reserved for top-ranking universities such as Stanford. Under his leadership, the entrepreneurship program transitioned to become a School of Entrepreneurship and has subsequently been ranked among the nation's top colleges and universities for entrepreneurs (e.g., Princeton Review).
Stull's reach has extended beyond the walls of CSUSB. Not only have his students subsequently developed businesses that positively impact the Inland Empire and broader region, but Stull also teaches entrepreneurship to an international student body.
He is responsible for the Global Summer Program in Entrepreneurship, which reaches students in South Korea, India and Latin America. He also conducts a Global Fall Seminar in Entrepreneurship for students at the Universidad de la Sabana Colombia, and has taught an executive MBA course for students from the Southern Taiwan University of Technology and the National Cheng Keng University in Taiwan.
The committee closed that
"Stull's teaching activities have impacted thousands of students and will continue to do so for years to come, as the programs he's been instrumental in creating continue to grow. We are pleased to recommend him, without hesitation, for CSUSB's highest teaching honor."
Prior to joining CSUSB, Stull served as chair of a professional development program and instructor at the California Small Business Administration Development Center, an instructor with The Right Start and an instructor with the Inland Empire Small Business Development Center.
Along with his two degrees from CSUSB, Stull received an executive doctor of management degree from Case Western Reserve University.