See Which Entrepreneurial Path is Right for You...
The CSUSB School of Entrepreneurship provides academic opportunities that foster student development through experiential learning. With a strong foundation of core classes and a variety of electives, you will learn to navigate your own path as an entrepreneurial leader. Discover your full potential as we guide you through the process of creating, launching and managing a business venture! Students, regardless of the career path they choose, will be able to use key entrepreneurial competencies and apply the entrepreneurial mindset in any context!
Find the program that best meets your needs: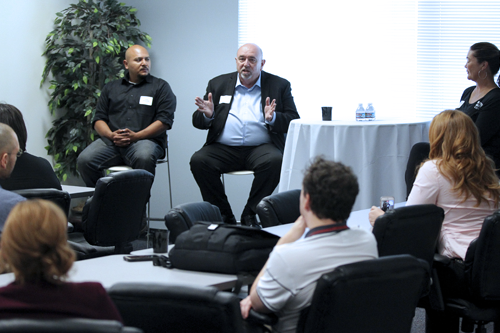 Whether you're the fully invested entrepreneur or just testing the waters, we offer course programs for all levels of interest.
CSUSB Students - Come and Kick Our Tires!
/ ADMN 1001 – Leadership for Global Challenges: Exploring the Entrepreneurial Mindset a General Education (GE Category E) course that explores the concept of entrepreneurship and how the entrepreneurial lens can be employed to help individuals understand, interact and change the world around them by solving pressing personal, social and global problems. Students will learn the skills and abilities consistent with an entrepreneurial mindset to develop as a whole person by better understanding human behavior, creative endeavors, social relationships, one's relationship to the environment and how stress and failure can be managed.
/ ENTR 3000 – Entrepreneurship and Innovation WELCOME TO A WHOLE NEW APPROACH... Add new skills in entrepreneurship and innovation to your career toolkit! Examines the sources of new ideas and innovation, how ideas move from mind to market, the facets of the entrepreneurial mindset, and how entrepreneurial models and approaches can be applied in any organizational or societal context.
Entre Quick Links