Dr. Mike Stull
Professor of Entrepreneurship Academic Director, Entrepreneurship program (BA & MBA) Director, Inland Empire Center for Entrepreneurship (IECE)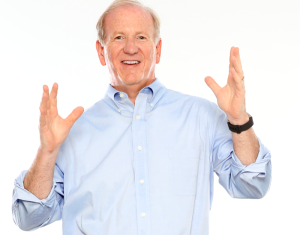 Joined the Entrepreneurship Team in 2001
Mike has more than 30 years of entrepreneurial and business experience that includes work in both the for-profit and nonprofit sectors. Prior to joining CSUSB, Mike was involved in avionics manufacturing, business consulting, and economic development. Since joining CSUSB, he has served as the Director of the Inland Empire Center for Entrepreneurship (IECE) at California State University, San Bernardino (CSUSB). He also serves as Chair for the Department of Management in the College of Business and Public Administration and academic director for entrepreneurship. He is responsible for program & curriculum management and development, teaching entrepreneurship courses, and overseeing numerous entrepreneurial initiatives. Under his leadership the program has raised over $28 million in grants, contracts and sponsorship and achieved national acclaim, including ranking as the #4 graduate entrepreneurship program in the U.S. from The Princeton Review & Entrepreneur Magazine, receiving the prestigious National Excellence in Entrepreneurship Education Award in 2010 from the United States Association for Small Business and Entrepreneurship (USASBE) and selected as one of the top 35 entrepreneurship programs globally in 2017 by AACSB International. In addition he has been recognized for his innovation and excellence in teaching entrepreneurship with both College and Department teaching awards, and received the Entrepreneur of the Year (EOY) award from Ernst & Young. Mike has more than 30 years of experience as an entrepreneur and business executive. He holds a BA and MBA in Business from CSUSB and a doctorate in Management from Case Western Reserve University.
Most Admired Entrepreneur:
I can't pick just one! I'm a big fan of Richard Branson and all of our Spirit of the Entrepreneur Award recipients here in the Inland Empire.
Awards & Recognition:
Best Academic Paper Award – 2011 International Engaged Management Scholarship Conference
Cal State San Bernardino – College of Business and Public Administration – Outstanding Instructionally Related Activities Award
Cal State San Bernardino – College of Business and Public Administration – Teaching Excellence Award
University of California Riverside, A. Gary Anderson Graduate School of Management – Management Leader of the Year
National Association of Small Business Development Centers (ASBDC) "State Star" Award for the State of California SBDC Program
Ernst & Young "Entrepreneur of the Year"
County of San Bernardino - Small Business Advocate Award
CSUSB School of Entrepreneurship Faculty
CSUSB School of Entrepreneurship Faculty Listings
Faculty
Position / Areas of Responsibility
Dr. Michael Stull
Director of the School of Entrepreneurship, Professor of Entrepreneurship and Director of the Inland Empire Center for Entrepreneurship /IECE
Steve Abbott
Entrepreneur in Residence, Lecturer of Entrepreneurship
Frank Almeida
Adjunct Professor of Entrepreneurship
AJ Beechko
Adjunct Professor of Law and Entrepreneurship
Ezekiel Bonillas
Adjunct Professor of Entrepreneurship
Mariatu Browne
Adjunct Professor of Entrepreneurship
William G. Donohoo
Adjunct Professor of Entrepreneurship
Monica Estrella
Adjunct Professor of Entrepreneurship
Karla Gonzalez
Adjunct Professor of Entrepreneurship
Dr. Anna Long-Ruboyianes
Assistant Professor of Entrepreneurship
Vincent McCoy
Adjunct Professor of Entrepreneurship
Mitch Morris
Adjunct Professor of Entrepreneurship
Patrick Person
Adjunct Professor of Entrepreneurship
Lisa Rios
Adjunct Professor of Entrepreneurship
Ernie Silvers
Lecturer of Entrepreneurship
Michelle Skiljan
Adjunct Professor of Law and Entrepreneurship
Johanna Smith
Professor of Theatre Education, Improvisation, & Puppetry, College of Arts & Letters
Dr. John Tillquist
Adjunct Professor of Entrepreneurship