Financial Fitness Bootcamp: 4-Day Small Business Training
After completing this no-cost program, participants will have what it takes to stay Financially Fit and be confident to manage their business' financials successfully!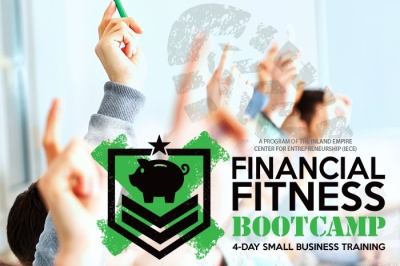 This 4-day small business training program offers 8 hours of in-person instruction on becoming "Financially Fit" and allows attendees to discover the world of financial management for small business in a comprehensive step-by-step process. Understanding how and why financial management and the tools to achieve this are critical components to healthy business growth! Attendees can expect to develop these essential tools to manage their small business financials properly and avoid future pitfalls.
Bootcamp Training Scope:
As a business owner, having a good handle of your accounting and finance can be critical to expanding your business! Join us for this FREE four-week series that will discuss:
TRAINING DAY 1

/ Overview of Financial Management for Small Business – Why is it important?

/ The 7 Financial Terms Every Entrepreneur Should Know

TRAINING DAY 2

/ Pricing Your Products & Services Correctly – Are you accounting for all your costs correctly?

/ The Importance of Cash Flow: Diagnosing and curing cash flow issues

/ Preparing and Understanding Your Key Financial Reports What they can tell you about your business?

/ The Process of Developing Financial Projections: Identifying and understanding your key assumptions

/ Using Key Financial Ratios

TRAINING DAY 3

/ The Fundamentals of Managing Your Small Business Finances

/ Understanding Your Business Model: Optimizing it for financial success

/ Maintaining Proper Records: Keep your business running smoothly

/ Implementing a Financial Tracking & Accounting System

TRAINING DAY 4

/ Understanding the Fundamentals of Business Credit

/ How Lenders View your company from a Financial Perspective

/ Preparing Your Company for Debt Capital: What you need to do and the information you need to provide to a potential lender